NETFISH conducts extension training programmes for fishermen in an extensive manner with a view to imparting knowledge among them on fish quality management and sustainable fishing.
We acquire technical information, including know-how, process operating data, plans designs, blue prints or any other information assistance required for conducting extension training programmes from all available sources and transfer such information to stakeholders through various extension training programmes. It network with stake holder organizations like fishermen's societies, mechanized boat operator's societies, fishermen's federations, etc. organization of processing and pre processing workers all over the country by inducting their representatives in the general body of the society. It also facilitates public or private investment in infrastructure development. NETFISH forge or develop systematic linkages between international, national/state/district institutions of excellence in the field of extension.
Training Aspects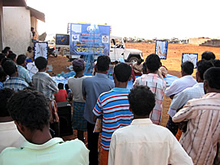 With the growing importance of total quality management in seafood production, post harvest handling has assumed paramount importance. Although India has world class seafood processing plants which take care of the final stages of post harvest handling, concerted efforts are lacking in the initial stages of the quality chain. There is a feeling among fishermen that they are completely left out of extension programmes because of the lack of reach. They do not get vital information on the quality requirements in international seafood trade as well as newly emerging areas.
Considering this issue NETFISH's extension training programmes deal with two major aspects. One is Fish Quality Management and the other is Conservation and Sustainable Fishing.
Topics Deal with in Fish Quality Management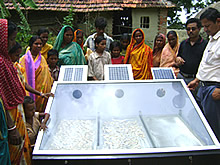 Hygienic Onboard handling of fishes onboard
Hygienic Handling of fishes at harbours
Handling fishes at pre-processing centers
Good fish markets
Production of good quality dry fish
Hygienic harvest of fishes from aqua farms
Topics Deal with in Conservation and Sustainable Fishing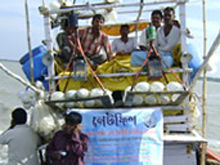 Coral reefs
Mangroves
Marine turtles
By-catch reduction
Juvenile fishing
Marine pollution
Night trawling
Trawl ban and its importance
Destructive fishing methods
Eco-friendly fishing methods
Marine protected ecosystems
Mesh size regulation
Responsible fishing
Wild seed collection
Methodology
Various Non-Governmental Organizations (NGOs) have been selected as members in NETFISH considering their past records on conducting fisheries development programmes. Personals from these member NGO's are being trained on various fisheries extension programmes with the help of reputed fisheries institutes /universities /departments/scientists, etc. are utilized for conducting various extension programmes among fisher folk. Both theory and practical classes on above mentioned topics are being arranged for the fishermen.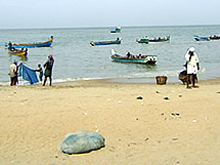 Tools
NETFISH uses various extension tools such as Documentaries, Animation films, Leaflets, Posters, training manuals, etc., for the effective conduct of these extension trainings.